Dad buys billboard for son
A dad in North Carolina bought his recently graduated son a billboard recognizing him as valedictorian even though the school refused to do so.
Garry Allmon purchased the large digital sign for his son, Joshua, on U.S. Highway 264 in Wake County, North Carolina to celebrate his four years of hard work.
The proud father posted a photo of the billboard on Facebook, which reads "Joshua Allmon will always be our Valedictorian."
Garry wrote, "East Wake High School and Wake County Public School Board may not recognize Josh's hard work but we will."
Joshua's school recently did away with naming a valedictorian and replaced it with the Latin honors ranking system as a "better way to recognize students who may have barely missed being named valedictorian or salutatorian by several decimal places," according to News and Observer.
The entire school district announced in May it would be making the change starting next year, but according to Josh, his school decided to do it earlier. So even though Josh said his transcript shows him ranked as number one, he wasn't given the coveted title.
"It's a stupid rule that will hurt students down the line, but it'll accomplish their goal of making everyone feel equal," he wrote on Twitter.
In addition to graduating with a 5.31 GPA, Joshua participated in two sports, multiple extra-curricular activities and had a job his senior year. He even got his college tuition paid for.
The hard-working student plans to attend North Carolina State University in the fall to study chemical engineering and paper science engineering with a minor in business, according to WRAL.
Joshua told Fox News he didn't think his dad would actually go through with the idea.
"I was flabbergasted when I first saw the billboard, and enjoyed the recognition that it gave, but was also appreciative of the fact that it allowed for a broader message/warning to be shared," he said.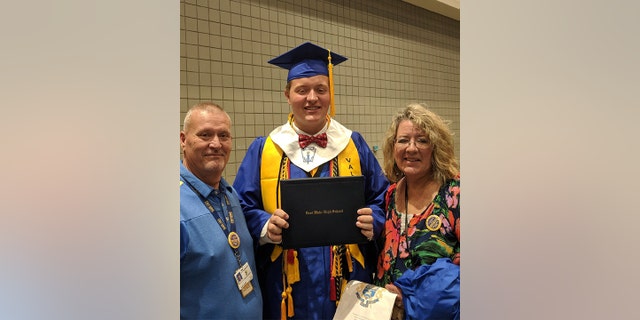 He hopes the billboard will send the message to people outside the school that the policy change is affecting students.
"It was a public statement, geared towards an increased public awareness on the negative effects that come with such policies. High achieving students have their reputations undermined by them," he wrote on Twitter.
"It's impossible to compete on the national stage when your accomplishments are limited by the system you have no choice but to come through. New policies are aimed at making everyone feel as if they achieved equally; this is simply not the case. Some people simply work harder," he continued.
The billboard was on display for 10 days through June 12, the day of East Wake's graduation ceremony.
Source: Michelle Gant / Fox News Lifestyle
by:
TastyAd